Vi ses på NordGlobs online-seminarium i vår! I april presenterar Francisca Hoyer sin nyutkomna avhandling "Relations of Absence: Germans in the East Indies and Their Families c. 1750-1820".
We hope to see you at NordGlob's online seminars this spring! In April, Francisca Hoyer will present her dissertation "Relations of Absence: Germans in the East Indies and Their Families c. 1750-1820" .

Läs mer/read more:

Tokyo College har just släppt en you-tube serie med 'globala dialoger', där en NordGlob-medlem bidrar med ett avsnitt om globalhistoria och genus.
Tokyo College has just released a series of 'global dialogues' , where a member of NordGlob contributes with a session on global history and gender.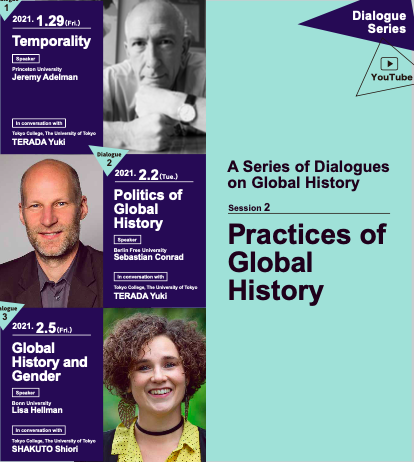 NordGlob på ENIUGH/
NordGlob at ENIUGH
Den 15e juni 16.15–18 håller NordGlob ett nätverksmöte för alla med intresse av nordisk globalhistoria på ENIUGH-kongressen i Åbo. Träffen kommer att fokusera på vilka specifika möjligheter och utmaningar det nordiska perspektivet bidrar med till globalhistoria som fält. Även om du inte är anmäld till kongressen som helhet kommer det att finnas möjlighet att få gratis lyssnar-biljetter till nätverksmötet.
On June 15th, 16.15–18 NordGlob gives a network meeting for all interested in Nordic global history at the ENIUGH-congress in Turku. This meeting will focus on the specific opportunities and challenges the Nordic perspective can add to global history as a field. Even if you are not planning to register to the conference as a whole, there will still be opportunities to receive free tickets to the network meeting.
Här samlas forskare, lärare, studenter och de som arbetar med förmedling i Sverige, Danmark, Norge, Finland och Island kring ett gemensamt intresse för globalhistoria. Här ryms allt från vår äldsta historia till nutidshistoria. Här drar vi nytta av våra historiska band, och ömsesidigt begripliga skandinaviska språk, för att gå bortom nationen som på förhand given analytisk gräns.

Here researchers, teachers, students and those who work with outreach in Sweden, Denmark, Norway, Finland and Iceland gather, all based on their common interest in global history – whether ancient or modern. Here we make use of our historical ties, and mutually comprehensible Scandinavian languages, to go beyond the nation as the given analytical framework.